MASCARA 101
BEST BROWN MASCARA
FOR SUBTLE, DEFINED LASHES
Don't overlook this classic brown mascara shade! It's every bit as appealing and lash-defining as true black—just a little more subtle.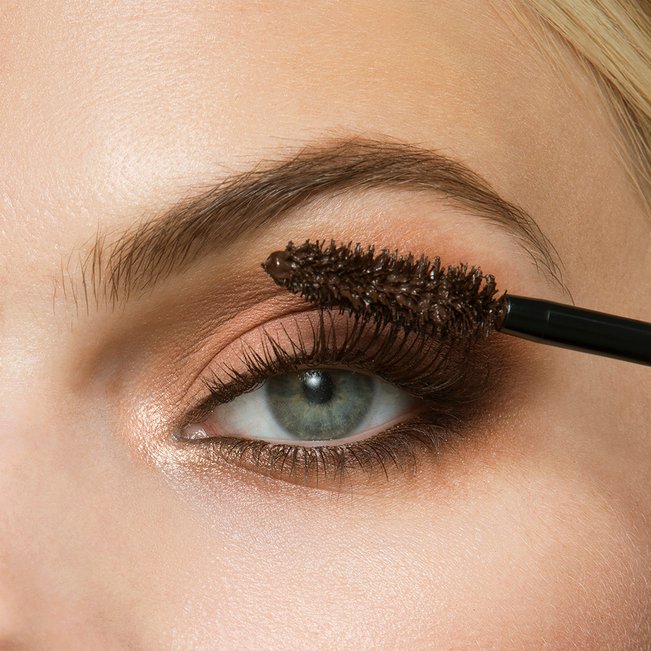 IS BLACK OR BROWN MASCARA BETTER?
A good brown mascara should be rich and deep in color—more dark chocolate than milk—and will read simply as black. But that slight change in shade has a subtle, powerful effect: it looks more natural. Since brown mascara formulas are less pigmented they're a bit more effortless-looking on the lashes. So both mascara shades are equally amazing and have their time and place!
WHO SHOULD WEAR BROWN MASCARA?
Brown mascara is perfect for those with blonde eyelashes or light-colored eyelashes. If you have a fair complexion, sometimes ultra-dark black mascaras read as harsh and/or unnatural.
WHEN TO WEAR BROWN MASCARA?
A deep, chocolatey brown mascara is a great choice for daytime. It will define lashes just as well as black mascara, but still look natural in the cold light of day. Also, you can try using a black mascara on top lashes and brown mascara on bottom lashes—enhancing bottom lashes with mascara can sometimes be tricky, and the softer color will again read as more authentically "lash-y".
New

Lash Sensational Sky High® Washable Mascara Makeup

True Brown

Buy now

Snapscara® Washable Mascara

Bold Brown

Buy now

The Falsies® Washable Mascara

Brownish Black

Buy now

Lash Sensational® Washable Mascara

Brownish Black

Buy now

Lash Sensational® Luscious Washable Mascara

Brownish Black

Buy now

Great Lash® Washable Mascara

Brownish Black

Buy now

Great Lash Big® Washable Mascara

Brownish Black

Buy now

The Colossal Big Shot™ Washable Mascara

Brownish Black

Buy now

The Falsies® Waterproof Mascara

Brownish Black

Buy now

The Rocket® Washable Mascara

Brownish Black

Buy now

Great Lash® Waterproof Mascara

Brownish Black

Buy now

Lash Sensational® Waterproof Mascara

Brownish Black

Buy now

The Falsies Lash Lift® Waterproof Mascara Eye Makeup

Brownish Black

Buy now

Total Temptation® Waterproof Mascara

Brownish Black

Buy now