MAYBELLINE NEW YORK PRESENTS:
EVERYTHING YOU NEED TO KNOW ABOUT LIQUID LIPSTICK
Hey Babellines, we get it; we love liquid lipstick, too! And who can blame us? Liquid lipsticks are usually selected for their long-lasting and resistant properties, and you can choose finishes like a smooth matte finish or a super shiny one! We're not just giving you lip service; liquid lipstick is a must-have for every makeup routine! Maybelline New York has something for you in shades ranging from brown to black to red to nude liquid lipstick! Read on to discover everything you need to know about our liquid lipstick!
WHAT TO LOOK FOR IN LIQUID LIPSTICK?
When choosing our best liquid lipstick, look for a long-lasting formula with a creamy texture that does not feel dry—a creamy texture is perfect. It's also important to reach for a liquid lipstick with an effective tip to ensure precise application. Finally, when it comes to color, choose a highly pigmented formula that is right for your skin tone. Find our best drugstore liquid lipstick for you with our virtual try-on tool.
WHY USE LIQUID LIPSTICK?
Liquid Lipsticks typically do not smudge as some lipsticks can.
HOW LONG DOES MAYBELLINE NEW YORK LIQUID LIPSTICK LAST?
Depending on the formula, liquid lipstick from Maybelline New York can last all day and night. Ink your lips for up to 16 hours with Super Stay Matte Ink and Super Stay Vinyl Ink and up to 24 hours of wear with Super Stay 24 Liquid Lipstick.
DOES LIQUID LIPSTICK DRY?
Any makeup product can dry out if left unopened, so ensure your liquid lipstick cap is tightly secured after each use.
PRO TIP: Need to remove liquid lipstick sooner than you thought? We recommend SuperStay Eraser Lip Color & Lipstick Remover, our powerhouse lipstick remover that removes long-lasting, long wear lipsticks and lip colors.
DISCOVER MAYBELLINE NEW YORK'S BEST LIQUID LIPSTICKS:
SUPERSTAY VINYL INK LONGLASTING LIQUID LIPSTICK
If you're looking for an instant shine finish, SuperStay Vinyl Ink is for you! This long-lasting liquid lipstick features a unique color lock formula that defies smudging and transfer with ten budge-resistant vinyl colors and up to 16 hour wear. Shake & swipe! Try our favorite shades like Red-Hot, a red liquid lipstick; Capricious, a vivid raspberry pink; Witty, a true mauve; Coy, a dusty rose mauve; and Royal, a deep wine.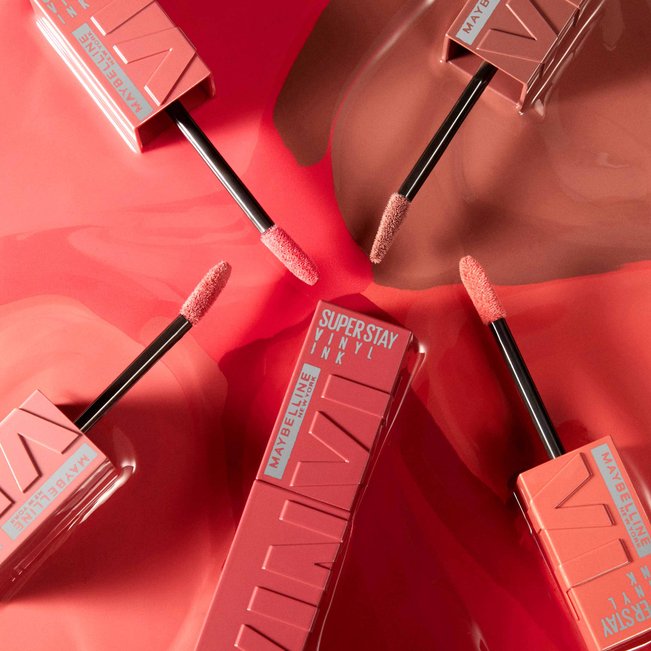 HOW TO APPLY LIQUID LIPSTICK:
Shake for at least 5 seconds before using. Apply to clean, dry lips, and let fully dry.
SUPER STAY VINYL INK LIQUID LIPCOLOR@(Model.VideoData.TitleHeadingLevel)>
No-Budge Vinyl Color. Up to 16HR Wear.
SUPER STAY MATTE INK LIQUID LIPSTICK
If you're looking for our best matte liquid lipstick, Super Stay Matte Ink Liquid Lipstick is for you. This formula stays day and night through breakfast, lunch, and dinner. Up to 16-hours, to be precise. Super Stay Matte Ink is packed with pigment and nearly weightless, giving you bright, beautiful lips that dry down to last all day. Best of all? Its 36 shades, inspired by NYC, are designed to flatter skin tones. Discover some of our favorite shades like Lover, a pretty pink with just enough grown-up cool; Seductress, a sexy beige-toned nude liquid lipstick with a touch of heat; Pioneer, a truly wicked-looking brick red liquid lipstick; Ruler, a vibrant, rosy-plum for a range of skin tones, and Dreamer, a cool taupe-meets pink of your dreams.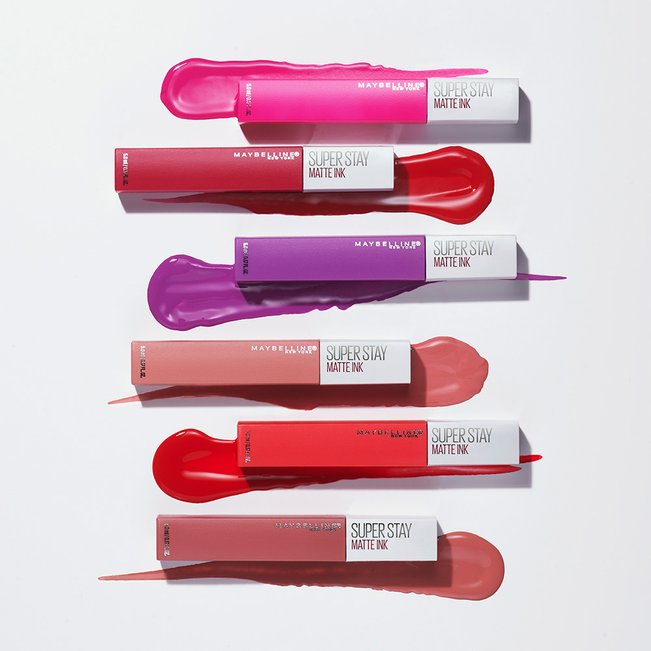 HOW TO APPLY LIQUID LIPSTICK:
Step 1. Apply in the center of your upper lip and follow the contours of your mouth.
Step 2. Glide across the entire bottom lip.
Step 3. Allow product to dry.
SUPER STAY 24 LIQUID LIPSTICK
For a long-lasting liquid lipstick that won't cake, flake, or dry, reach for Super Stay 24 Liquid Lipstick. Our first and original game-changing liquid lipstick is still one of our best and most innovative lipsticks. We've played with shades to make them look unique and stand out. For example, Optic Ruby is pigmented to make teeth appear brighter. The double-sided tube delivers intense and long-lasting color for up to 24 hours of wear and soft, un-sticky balm on the other side, which you apply to lips once the lipstick pigment has set. Some of our favorite shades include Blush On, a cool, complexion-flattering rosy pink; Forever Chestnut, a super-wearable balance of pink, brown, and a touch of mauve; Unlimited Raisin, a genuine, juicy mauve laced with shimmer that works on a range of skin tones; Very Cranberry, a little pink, a little plum, a little berry and a hint of cobweb-shimmer, and Everlasting Wine, the perfect everyday neutral, warm brown liquid lipstick.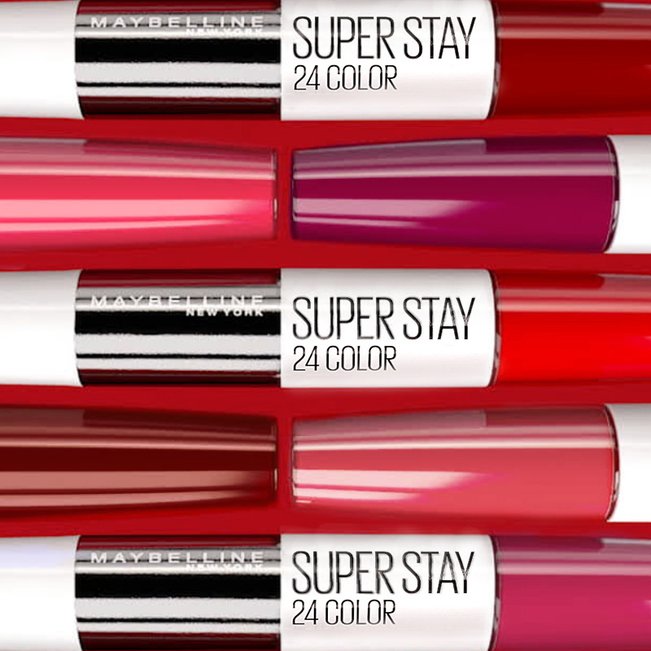 1/3

HOW TO APPLY

Step 1. Apply to clean, bare lips.


2/3

HOW TO APPLY

Step 2. Allow two minutes to dry, then apply the ultra-conditioning balm to seal in moisture. Reapply balm as needed.



3/3

TO REMOVE

And when you're ready to remove, it comes off instantly with our SuperStay Eraser.