FACE MAKEUP 101
BEST BB CREAM FOR OILY AND ACNE-PRONE SKIN
PERFECT YOUR SKIN TONE AND TEXTURE
Good skin is typically based on two things: texture and tone. The goal is the same for both: to be fresh and even. Those with normal to dry skin types have multiple options for achieving this look, but those with oily skin usually have a tougher time finding their perfect bb cream or foundation makeup product. Those with oily-skin are often assumed to need lots of coverage, meaning you need to spackle on the foundation in order to have a smooth, matte, clear-looking complexion.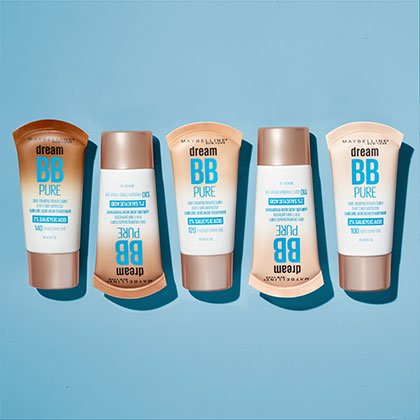 WHAT'S THE BEST BB CREAM FOR OILY SKIN? IT'S DREAM PURE BB CREAM!
We invented Dream Pure BB Cream, a skincare-makeup hybrid that takes care of oily-skin needs without treating it like a high-coverage situation. This light-coverage formula gives skin a smooth, even glow and is made with 2% salicylic acid to keep pores clear and unclogged. It also has a slew of good-for-you benefits like concealing imperfections. Minimizimg the look of pores. Reducing the appearance of redness. Hydrating and smoothing. Mattifying and clarifying. It's ideal for summertime, when even normal skin tends to get oilier and more acne-prone.
HOW TO USE BB CREAM FOR OILY SKIN:
Use this bb cream as you would any foundation or tinted moisturizer—before your concealer and powder. It will give hydrating, uniform coverage and a bit of a glow. Spots and discoloration will need to be covered up with concealer after, if you still need.
WHICH IS BETTER FOR OILY SKIN: BB CREAM OR FOUNDATION?
Now, if you have heavy-duty acne or discoloration, traditional medium to high coverage foundation will probably best suit your needs. But if your skin is more low maintenance and a bit oily, bb cream is your best option.
IS BB CREAM GOOD FOR ACNE?
The soothing minerals often found in BB cream formulas are beneficial for treating blemishes. However, some BB creams are too heavy and will clog pores. Others aren't oil-free which can be a problem if your skin is already oily. So you need to be careful when choosing your BB cream. Maybelline's Dream Pure BB Cream conceals imperfections, mattifies, and clears acne with 2% Salicylic Acid, making it the ultimate choice for people with acne.
CAN BB CREAM COVER ACNE SCARS?
BB cream is great for daily protection of your skin and it also adds some glow, but regular BB creams cannot cover up blemishes and acne scars. A BB cream with a dewy finish will actually emphasize the bumpy texture of acne scars, so pick a BB cream that mattifies and conceals.